WICKER PARK — A few feet of snow did not keep Wicker Park residents indoors on Sunday.
Nellsyn Hill, 23 and Will Bentke, 25, took turns sliding down the slide in the children's playground inside of Wicker Park's namesake park.
"We had a massive throwdown and were wrestling in the snow," said Bentke while recounting the morning events from a stool overlooking the street at Stan's Donuts, 1560 N. Damen Ave., around the corner from the park.
Tandem Rodriquez, a maker of unique bikes using recycled parts, was on his way to work at West Town Bikes, 2459 W. Division St.
Finn McFerran, age 17 months, bundled up to walk down Damen Avenue with his parents. McFerran was transfixed by the falling snow.
Cody Denney, 29, was waiting for a cab to take him to a friend's place on Sunday (Denney cannot use the nearby remodeled "L" station because there is no elevator).
Denny said the snow-covered sidewalks are especially tough to navigate.
"My fingers get cold and slippery," Denney said, explaining that he cannot wear gloves because it is difficult to get his fingers, which have muscle spasms, into the gloves. He pushes mainly with the base of his wrists.
Denney said of the snow: "It looks pretty but I hate it."
In the lobby of Walgreen's at 1601 N. Milwaukee Ave., Arlo, a four-year-old Shepherd and Newfoundland mutt mix, waited eagerly for co-owner Katie Schtevie to come through the glass doors.
"He's due for a bath but we are just giving him a snow bath today," said Jake Schetvie.
Just outside the Walgreen's, a couple enjoyed a quick kiss in the snow.

Robin Lalonde, 35 owner of Edge Athlete Lounge, got in a snow ball fight with two other runners. Normally the Sunday morning jogging group has at least seven runners but on Sunday their ranks were down to three, Lalonde said.
Later in the day, as darkness fell, the sidewalks got heavier with snow and fewer people were out and about.
A lone cyclist waited in the snow to plow through traffic.
Leo Santiago, a clerk at Crespo's, 2157 W. North Ave. on the southeast corner of Leavitt and North Ave., said that most customers were buying "beer, wine and snacks."
When asked how he feels about the snow, Santiago said, "I want to be in Puerto Rico right now."
Many people, like the Wood family, were headed to Super Bowl parties.
Noa Wood, 2, and his brother, Elijah Wood, 4, got to choose snacks from Crespo's.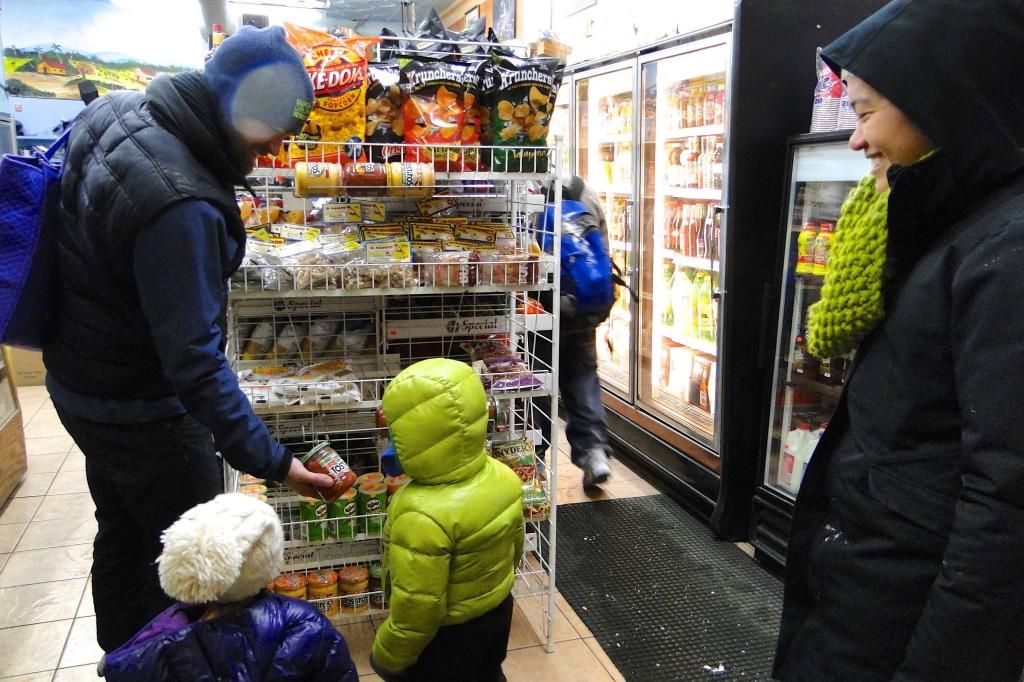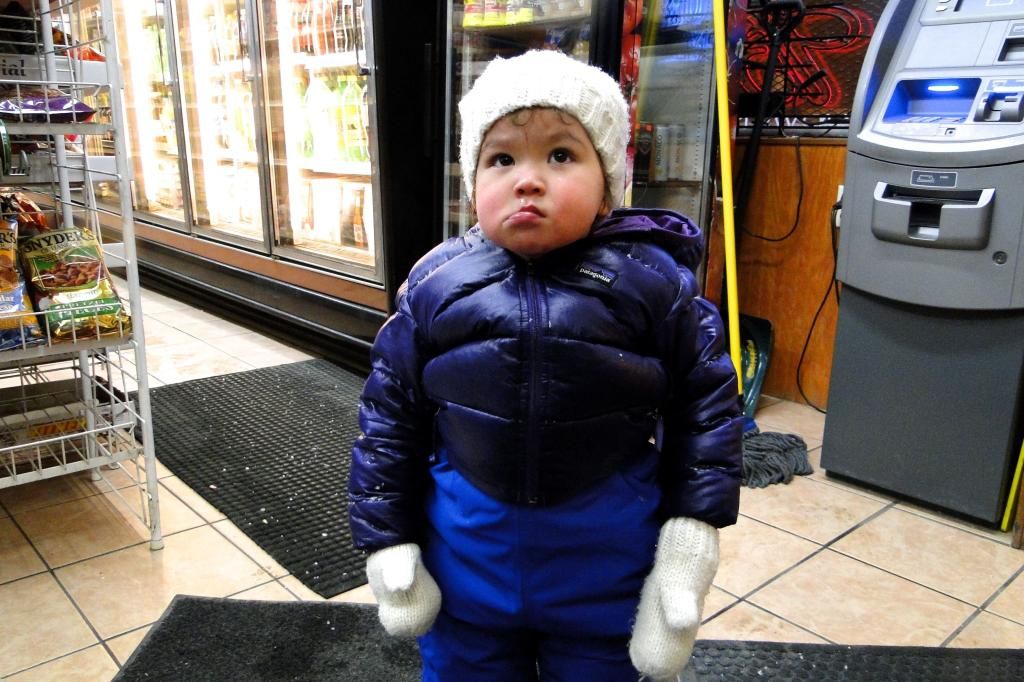 "We are mainly here to buy beer," said their father Aaron Wood.
Standing underneath the CTA Damen Blue Line "L" tracks, Matt Cole and Bob K. wore shorts, danced in the snow and shouted out to people in cars.