MANHATTAN — As asking rents for apartments in luxury buildings drop across the city and prices for non-luxury buildings increase, luxe apartment residents in some neighborhoods may be paying the same price — or even less — than their less fancy neighbors, according to an analysis by the rent search engine RentHop.
As inventory expands for luxury apartments — defined by the report as those that have a doorman and/or fitness center and generally located in high-rises — landlords of these higher-end properties are vying for tenants by lowering prices and offering concessions, like a month's free rent or paying the brokers fee, experts said.
In DUMBO, the median price of a one-bedroom in a luxury rental for the fourth quarter of 2016 was $3,780 a month, while a one-bedroom in a non-luxury rental was about 4 percent more, at $3,945 a month, RentHop found. Rents for both fell compared to the same time a year ago, but the nearly 6 percent dip for luxury was bigger than the 4 percent dip for non-luxury.
The area, which has a lot of new construction, especially for condos, is "ripe" for renters — at least for now, said Shane Leese, a data scientist for RentHop.
In Downtown Brooklyn and the Financial District, the median prices for one-bedrooms were the same for both luxury and non-luxury units, at $2,995 a month and $3,325 a month, respectively.
In Downtown Brooklyn, where there's a glut of new luxury units, landlords are "desperate" to fill vacancies, while in the Financial District, even the non-luxury units tend to be fairly high-end, Leese noted.
In Central Harlem, the median price for luxury units grew less than 2 percent to $2,185 a month from the same time last year, while the median for non-luxury rentals grew nearly 7 percent to $2,130, narrowing the gap between the two.
"In areas where the prices are very close like Central Harlem, there simply isn't enough of a market for luxury apartments to support charging $3,000 to $4,000 for a one-bedroom, when non-lux rent is just over $2,000," Leese said.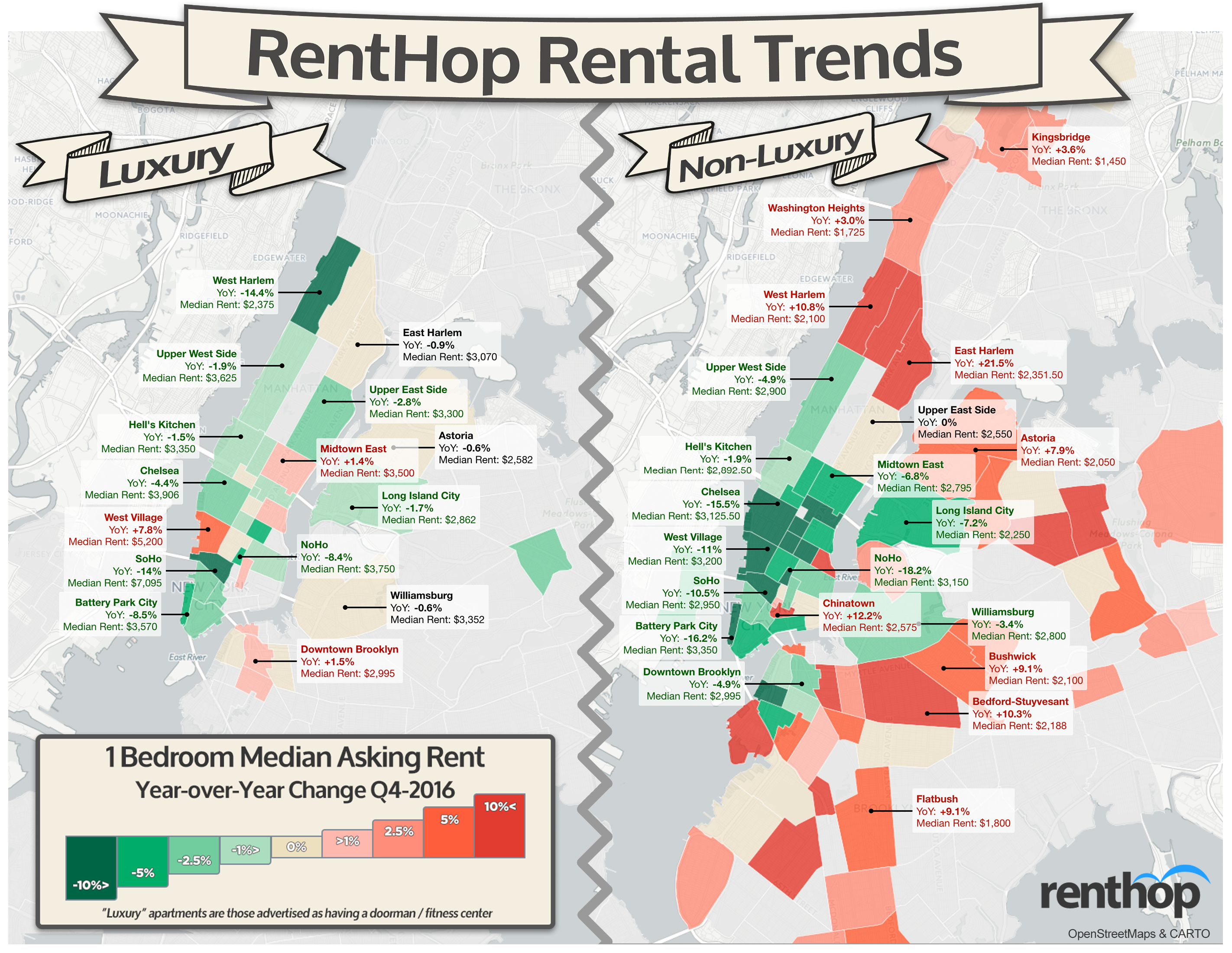 In Midtown's Theater District, the spread between the two types of apartments was slim, too: $3,321 a month for luxury, down nearly 5 percent, versus $3,235 a month for non-luxury, which was stable from the year before.
The narrow spread there, however, was for a different reason, Leese believes.
"I think the location is what people pay for, and the stock of apartments isn't all that varied, meaning luxury here isn't the same as Chelsea luxury," he said. "A doorman isn't a high priority, and there's a Crunch fitness or New York Sports Club within walking distance."
In SoHo, on the other hand, where the median for luxury units decreased by nearly 11 percent to $7,095 a month, that was still far more than the median for non-luxury, which was $2,950 a month. Luxe units were roughly 140 percent more expensive there.
"Places like SoHo or the West Village see a huge gap because these areas are and have been nice areas for decades," Leese said. "Newer developments and especially luxury buildings here are really the pinnacle of the New York housing market. Non-luxe units in these areas are aging, with a trend toward rebuilding them as high-rises."
Overall, the largest spread in price between luxury and non-luxury one-bedroom units is in Queens, where the median rent for fancy apartments is $2,764 a month, nearly 42 percent more than the median of $1,950 for non-doorman buildings, RentHop found. The median for non-luxury units in Queens jumped more than 8 percent compared to the same time last year versus a dip of nearly 5 percent in the luxury market.
In Brooklyn, doorman buildings had a median monthly rent of $3,150, which was about 31 percent more than non-doorman buildings, with a monthly median of $2,400. Prices for luxe units in the borough fell more than 2 percent while non-luxe units saw a 9 percent jump.
In Manhattan, the difference between the two types of housing was nearly 25 percent, with $3,495 a month for luxury apartments versus $2,800 for non-luxury units. Prices for both types of housing, however fell over the past year by more than 4 percent.