There was a time when Washington Heights was the place to go to buy drugs. Or end up facedown in the gutter. Now, it's home to yuppies and stroller pushers.
Everyone knows this. But what even longtime New Yorkers might not know is that the slow and quiet change over the past two decades in Washington Heights and neighboring Inwood has put them among the safest places to live, not only in Manhattan, but in all of New York City.
Surprising? Perhaps. But the numbers don't lie.
13%
Drop in robberies, 2008 to 2010
The safest neighborhoods in the other boroughs should surprise no one. In Manhattan, it was the Upper East Side (No, 14). Riverdale (No. 13) was top in the Bronx. And in Queens, it was Forest Hills and Rego Park (No. 6).
But there were more revelations in store. As it turned out, many of the report's lowest-ranking neighborhoods were in parts of Manhattan not typically associated with crime.
Midtown, for instance, came in dead last, at No. 69, with 723 major crimes per 10,000 people. That rate included a jump in rapes and felony assaults. Hardly anyone lives in Midtown, but it's flooded with tourists and commuters during the day. With all those people mingling, there are more opportunities for crime. Pair that with the low census population, and you've got a bad crime rate.
Greenwich Village and the Meatpacking District are among the city's most expensive and desirable neighborhoods, but they come in second to last, at No. 68. Blame the thieves: property crime is by far the area's biggest crime concern. Factor out those offenses, and the Village's ranking rises to No. 32. Yet that's still below Inwood and Washington Heights, and even lower than Morris Heights in the Bronx.
Flatiron (No. 65), Chelsea and Hell's Kitchen (No. 61), and Murray Hill and Gramercy (No. 57) also rank among the bottom dozen neighborhoods for overall safety. All have relatively small populations, but suffer from some of the highest rates of property crimes.
The Crime & Safety Report analysis is the product of DNAinfo.com's access to a detailed crime log assembled by the NYPD's CompStat system for each of the department's 76 precincts. The data lists seven major "index" crimes: murder, rape, robbery, felony assault, burglary, grand larceny and auto theft.
The formula was simple: divide the number of reported crimes in a neighborhood by the number of people living there, for a per capita crime rate.
Using that rate, DNAinfo.com also found success stories. In the South Bronx, on streets once ruined by arsonists and drug dealers, there are entirely new communities in which people expect crime to drop, not soar. Morris Heights and Mount Hope (No. 27) rank higher than all but four neighborhoods in Manhattan. High Bridge (No. 39) has a lower crime rate than Park Slope (No. 41). Melrose and Morrisania (No. 45) edge out Williamsburg, and are now among the city's fastest growing neighborhoods. Mott Haven (No. 59), once caricatured in "Bonfire of the Vanities," fared better than Brooklyn Heights and Boerum Hill (No. 60). As for lowly Hunts Point (No. 67), well, let's just say the South Bronx renaissance is nowhere near complete.
Queens, too, was a sleeper success, with nine neighborhoods among the city's 20 safest. The turnaround has been led by up-and-coming areas such as Corona and Elmhurst (No. 15), which are flooded with striving immigrants and Manhattan émigrés. Another triumph is underway in Flushing, which is on pace to eclipse Manhattan's Chinatown in population, minus the crime. Flushing, paired with Whitestone, ranks No. 9, while Chinatown, along with the Lower East Side, ranks No. 48.
14%
Increase in rapes, 2009 to 2010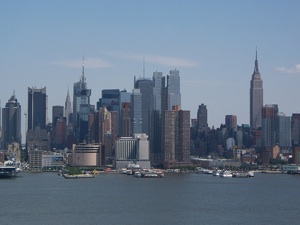 Photo credit: Flickr/Eva Abreu
Another of the surprises in the Crime & Safety Report was in Brooklyn. Williamsburg, the poster child for hipsterdom, ranks No. 47. Bushwick, where many Williamsburg hipsters are emigrating, ranks No. 52. Highly yuppified Fort Greene/Clinton Hill ended up at No. 64, two rungs lower than Bedford-Stuyvesant and five steps from the bottom. One of the exceptions was Kensington and Borough Park, which boast a mix of professionals, young families, immigrants and Orthodox Jews, and was the city's third-safest neighborhood.
Meanwhile, Brooklyn's historically roughest places have not shed their reputations. Brownsville (No. 66) was the murder capital of New York in 2010, and also had the highest rate of robberies and shootings. And after several years of decline, East New York (No. 53) stumbled in 2010, when murders, robberies and rapes all jumped.
The rankings, based on 2010 data, represent a snapshot in time. But the NYPD logs also include historic data that illustrate the steep, wide and sustained drop in crime that has taken place in just about every part of the city since 1993, when the NYPD began tracking crimes through CompStat.
Revolutionary, but controversial, police crackdowns; advances in crime-fighting technology; a real-estate boom and a once-soaring economy all contributed to the crime plunge since the early 1990s. By 2010, index crimes had dropped collectively by 75 percent, to levels not seen since the early 1960s. Murders alone fell by 72 percent, and car thefts were down by 90 percent. Even the city's most violent neighborhoods, including East New York and Brownsville, Jamaica and Hollis, Harlem and Hunts Point, improved drastically.
Although the overall crime rate went down by 1.5 percent from 2009 to 2010, murders increased for the first time in decades, by 13.8 percent. Robberies climbed by 4.5 percent. Rapes spiked by 13.9 percent; the worst rises were in Harlem, where all three sections — East Harlem, Central Harlem and West Harlem — suffered rates that were among the highest in the city. Felony assaults edged up by 1 percent.
New York remains at early 1960s crime levels, but the recent uptick has fueled speculation and fear that the crime rate has bottomed out, and may be on its way back up. Time will tell if that's the case. But one thing is clear now: New York City has come a long way since the bad old days of crack and blight. From Washington Heights to Morris Heights, the quality of life in the Big Apple has greatly improved. The data in the Crime & Safety Report allows for myriad conclusions. We invite our readers, through further analysis and investigation, to develop their own.